History
Spark
Designer-artist and founder, Mark Parrish's first encounter with a "Worklodge" was in 1975 in Guadalajara, Mexico. In Parrish's words, "While hiking through Mexico, I partnered with an amazing inventor-mechanic-artist who invited me, a "gringo," to collaborate on a product we would build and sell on our travels. While in Guadalajara, we stayed in an inexpensive type of hotel for traveling craftsmen only. The craftsmen staying there, like the guitar maker in the next room, mostly came from remote villages to show and sell their work in the city's markets and purchase local materials. The lodge was a place where they could sleep, cook and finish working on their products, as well as befriend others in this network, acquiring and trading information on places to sell wares or find materials and where to travel to next."
Beginnings 1996
This seed came to fruition in 1996, when the PointB Project grew out of Parrish's desire to fulfill what he felt was a grossly overlooked need that he shared with colleagues at similar points in their lives. At that time, there was basically one way of entering a highly charged urban scene like New York, Amsterdam, Tokyo or Berlin, and that was to move there. Instead, he and his colleagues wanted to relocate temporarily, to transcend the physical limitations of their primary studios, expand cultural perspectives and recharge their 'personal batteries' through time abroad without disrupting their work. They asked themselves: How could they make it practical to leave their own studios and continue working freely? And how could they make it possible for friends to come to New York and do the same thing? Thus, Parrish (New York based) and three colleagues Dirk Sommer, Paul Schmitz and Johannes Hüppi (German and Swiss based artists), identified their need for what would eventually become a Worklodge. They conceived a practical system through which they could leave their primary studios (point A) for a secondary studio abroad (point B) on a regular basis without any interruption to their workflow. The idea sparked immediate interest from other global 'Worktravel' colleagues and brought about a new creation- an international Worklodge in Brooklyn. PointB evolved around the idea of global Worktravel, a concept that encompasses a field of lifestyles combining work and travel, and which continues to grow in importance as ever-increasing mobility and communication technology change the way creative professionals work. The Worklodge represents a synthesis of ideas about what these Worktravelers might need. This initial idea for a practical workspace grew into a whole system of looking at the varied aspects of physical space, time, network, setting, and overall sustainability — the five components underlying the PointB Project
Space
Parrish built and formalized an architectural system of spaces he calls "Solotats," a term combining solo exploration and inward reflection with short-term habitats. These were adapted into work/live studios where a large, open space is designed to comfortably live or work in, and to stimulate a balance between the two. The studios are a warm, minimal design, where what one brings into the space is of most importance- not the architecture itself. By unpacking your bags and placing your objects around, you become at home in a sheltered base where you can reflect and create. Just as important is that after one leaves, the space quickly returns to its neutrality, ready for the next lodger.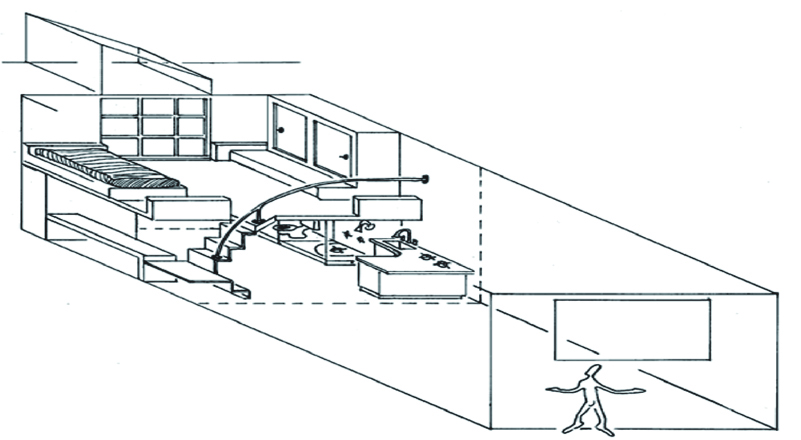 Time
Unlike a residency program, there is the possibility of returning as frequently as needed. If we can agree that the creative impulse comes when one has a solo moment of clarity or calm, it begs the question: What if one was able to spend many moments like this, free from interruption by distracting duties and commitments, work, social and otherwise? What if one could spend a whole month, or two or three, cultivating this state of mind?
Setting
Contemplating where those moments can occur best brings up the third component of setting. Looking at something new, or looking at the same thing differently, heightens one's perception and changes one's perspective. The key balance in the Solotat studio is that there is a stimulating, inspirational exterior setting balanced by an interior habitat- a sheltered base for reflective dreams. At a certain point in reflection, the options of going outside again or staying in for further reflection are joined by another instinct: to report, share, compare, or discuss one's discoveries and ideas. If that is the case, it's always nice to have someone nearby. From that interchange, more new growth occurs, and new connections are stimulated.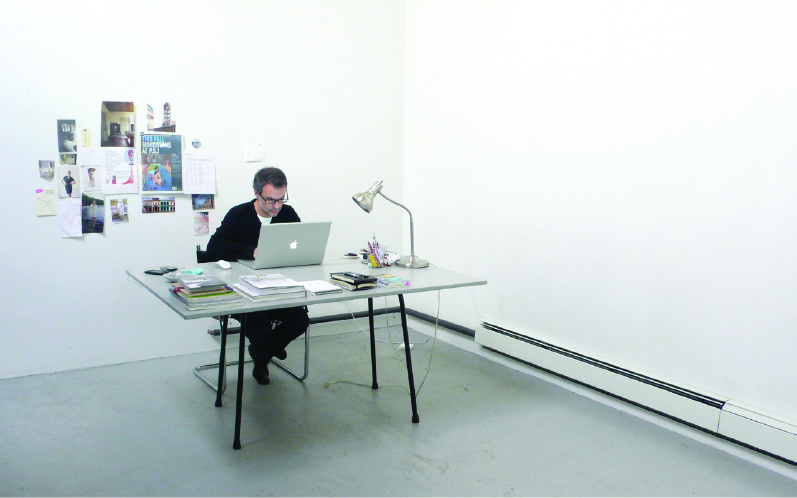 Network
Since lodgers are usually in similar places in their lives, perhaps with a full range of exhibitions or books under their belts, but certainly with a store of completions and failures behind them, it is likely that a basis for understanding can occur. The possibility of sustained friendship and respect in a growing network is an inspiring factor for most people. It is also a vital aspect of an interesting larger setting as well as a catalyst for further nourishing sustenance.
Sustainability
For a space to maintain relevance to a growing group of individuals, the resources must expand and grow accordingly. As people move to new centers of interest, they will seek similar resources in that new place, and a new space will arise to meet the demand. Yet keeping up and maintaining a good resource takes energy, expense and care. In order for the project to be sustainable, a balance of learning, growth and preparation for ongoing and future needs must be part of the process.