Mark Parrish, Founder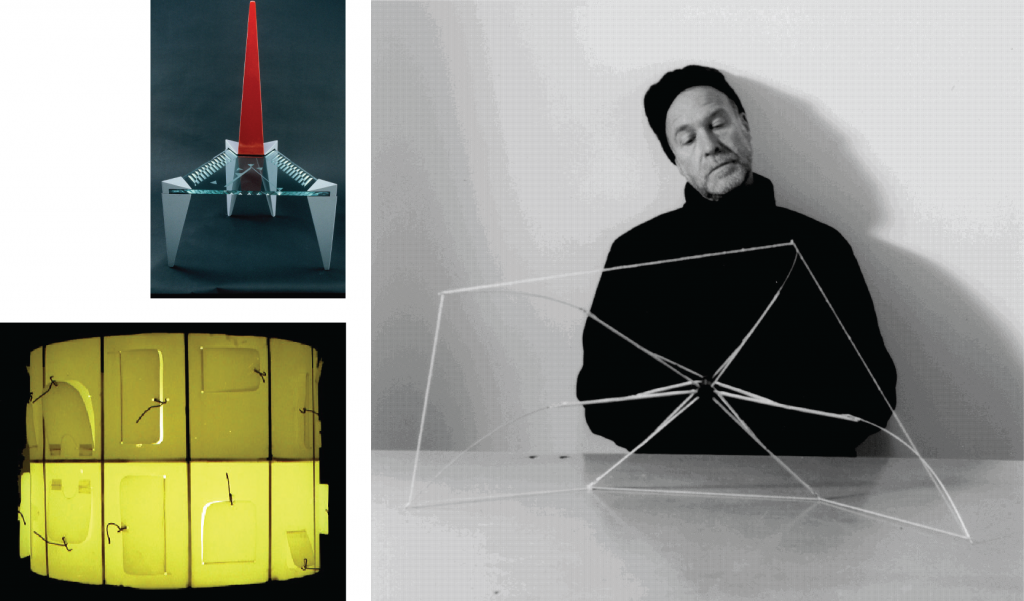 Mark Parrish is an American design artist from Texas who has lived in New York since the 80's. Primarily self-taught, Parrish started his own design-art studio in Austin in the mid 70's. His practice often involves analysis of movement and portability, cultural norms and systems of living. His work takes form in sculptural furniture systems and architectural space, designed both as tools and as experiential spaces. His various 'artworks involving design' function as objects invented for practical use as well as a participatory means to a contemplative situation.
Working from a humanistic, utilitarian, modern tradition combined with American Shaker values and Eastern influences such as Wabi Sabi, Parrish's practice resonates with that of Japanese-American artist and designer Isamu Noguchi, whose work was widely considered a professional classification conundrum even after he represented the United States in the 1986 Venice Biennale. Parrish's interests in social engagement and practical form also recall the furniture, design and architecture of late-period Donald Judd and his Chinati Foundation project of combining social space and art in its inspiration context.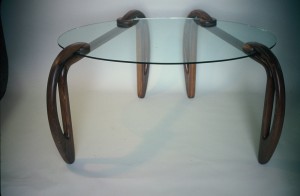 Parrish's first solo shows were of conceptual furniture, although some works would fit in either art or design contexts. In the early 80's Parrish showed with Grace Designs Gallery in Dallas, along with art-designers such as Phillipe Starck, Michael Graves, Ron Arad and Arata Isozaki, and became colleagues and friends with Etore Sotsass in Milan as well as the Memphis group. Taking that inspiration to New York, he showed with the Art et Industrie gallery in the late 80's and early 90's, among other hybrid artists such as Forrest (Frosty) Myers and Terrence Main. Parrish, however, continued further into art through design, with the central focus ranging from natural phenomenology to space and social relation. While his work runs parallel to design-art blur practices in the 90's, Parrish gives equal or greater attention to the experiential activity in his forms, and is more related to Relational Aesthetics in a broader realm that encompasses studies of dynamics of nature and participant use. Making in-situ works in natural contexts with interstitial edge conditions such as beach shores, escarpments, and clearings in woods, Parrish's 'portable experience structures' are situations of discovery where the piece, the enabling apparatus, the activity, and sometimes he himself as a guide, all become components of the work. For example, in 'Sweater, 2004', a PVC and clear plastic portable sweat lodge for four people, Parrish guided a group of three to an experience on a remote rocky beach during a stormy night. The transparent plastic sweat lodge created an inside-outside atmosphere of coziness combined with exposure to the elements, activating a 'core emotional switch' in an 'art experience sequence.'
Parrish's activities and projects in nature and his blend of work and life also refer to the 'aktion' approach of the German artist Joseph Beuys, who defined 'social sculpture' as a form in which dialogue and ideas are an artist's primary media. Part of the conception of Parrish's experiential pieces is to create a transcendental moment, the point where the design object works in the service of art.
In 1996 Parrish moved into broader explorations of art environments and created a space of artist studios under one roof called the 'PointB Worklodge.' The PointB project grew organically from his prior works in design, blurring the lines between art, architecture and aspects of sociology. The architectural space was not only refined into objects per se, but also into 'encapsulated places of activity' that interact as something like an urban microcosm. As the writer and Worklodger, Eva Sturm wrote "The history of the space as a 'precisely conceived reduction' reveals that the eight completed studios are actually hotbeds for social processes, in which not only the most diverse ideas and things are created, but also in which ephemeral or lasting co-operations and friendships develop." Contemporary practices that deal with redefining human interaction with space, especially as related to modular components or portable spaces, are a key part of the exploration in Parrish's art. In this sense, his work is also related to a group of artists and architects who have expanded their discourse beyond spatial/site issues and delved into projects involving social and global critiques, such as Diller & Scofidio (DSR), Atelier Von Lieshout, and Vito Acconci Studios. Parrish's range of interests, evolving from design objects into design art, 'design-space' and micro-architecture (lightweight, mobile and ecological structures), employ processes of psychogeography in shaping attention to the outside, and a corresponding look at the use and interaction of people and space inside.
In toto, Parrish's work can be seen as tools for both approaching globalism and being more present in one's locality- communing with an internal spirit while engaging a larger community. As such, it offers a means to a kind of art spirituality that, after being overlooked by Modernism, has been in a long process of recovery into high-art culture by shamanistic artists since the 60's through direct performance. As in performance art, "the underlying principle, the simple belief that the performance is as important as the words, the sounds, the design of a work of art," the impact extends beyond the relationality of the artist and the collector, or the artist and the viewer, becoming at once more internal and more external and thereby more spiritual. Similar to Jazz improvisation, where "the musical feeling of the player is the real work of art," the transmission of this means of spiritual communing, and the activation of this interactive potential overall, is the main point of Parrish's art.
Patrick Meagher