New York Worklodge
PointB Worklodge New York (1996-2016)
We want to thank all those that have participated in twenty great years of PointB Worklodge.
PointB was located in Williamsburg, Brooklyn, in a former ironworks factory, where for twenty years it functioned as a worklodge, containing eight large studio lofts. Warm yet minimalist, architecturally efficient and stimulating, the studios were designed by Mark Parrish and created to offer a practical supply of amenities and support services.
The studios were used by lodgers for ongoing research/art/on-site experimentation, stimulated by cross-cultural influences. Lodgers benefitted from monthly presentations, open studios and international as well as New York-based networking. Former lodgers included architects, writers, musicians, visual artists, curators, designers, scientists, directors, entrepreneurs and creators from a myriad of disciplines. To date over 900 lodgers have lived and worked at PointB Worklodge NY.
Where, if not in the Worklodge, would an American electric car designer, a French anthropologist from New Guinea and a Japanese video artist get a chance for a creative cross- pollination?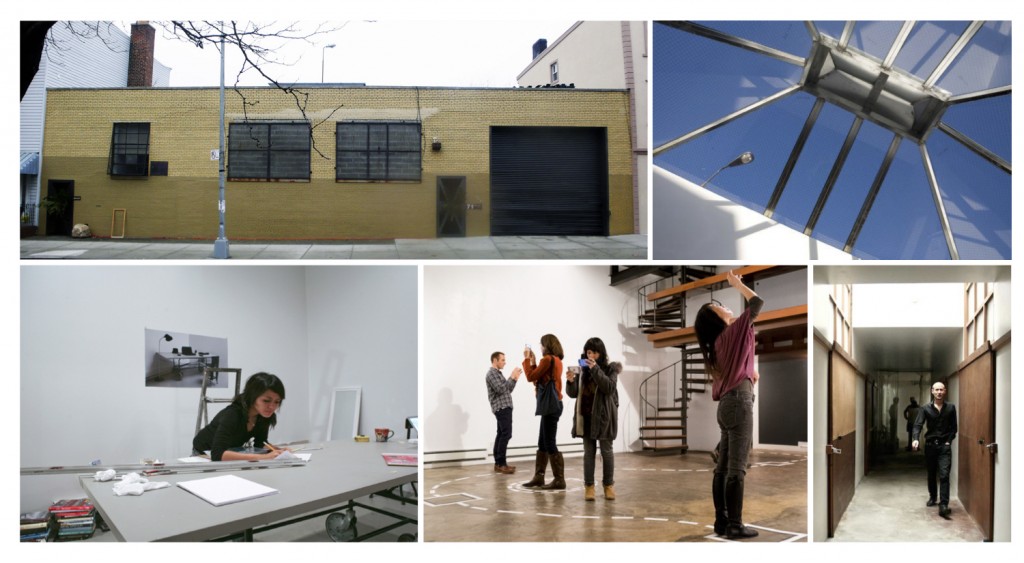 Overview of lodgers at PointB New York
Entry to PointB:
1/4 returning lodgers
3/8 direct new application
1/8 NY gallery
1/4 granting organization
National and cultural origin:
1/8 Asia
5/8 Europe
1/4 Australia, North and South America, and elsewhere
Work disciplines of the creative professionals:
1/4 visual artists
1/4 designers & architects
1/4 curators, writers, researchers, sociologists
1/4 filmmakers, performers, producers, musicians
Stage of career:
5/8 mid career professionals
1/4 advanced career professionals
1/8 emerging artists

Programs
Most of our lodgers were mid-career professionals and very independent in their modes of working. Adding this to the fact that our group usually incorporated different disciplines meant that everyone in the house had vastly different needs. A writer or researcher might have just required quiet time in the studio, while an artist in the City for the first time might have needed all the help he or she could get in setting up new contacts.
First Wednesday Gathering (lodger-to-lodger informal presentation)
First Wednesday was a monthly lodger-to-lodger event in the worklodge – a chance for everyone to meet and network in an informal setting. The emphasis was on the personal creative process as well as on cultural backgrounds and major influences. We viewed it as peer-to-peer dialogue without any pressure to present a final product. Guests, such as New York-based or international curators and artists, were sometimes invited to talk about themselves and their work as well. A "potluck" dinner was also part of the evening of presentations and discussion.
Open Studio (new work presentation)
Open Studio was organized in close collaboration with the artist. Usually taking place towards the end of the stay, it gave lodgers an opportunity to show their most recent work and reconnect informally with all the new contacts established during their stay in New York. Depending on the nature of the work, Open Studios could take the form of an exhibition, book presentation, screening or talk.
PointB Special Projects (exhibitions and events)
PointB Special Projects were hosted and curated occasionally, using one of the studios as an exhibition and event space.
PointB Art Talks (lecture series)
PointB Talks were a lecture series started in early 2010 to provide a platform for discussion with local artists. These events provided an important meeting ground for lodgers and local artists. With a different topic each time, the talks demonstrated a multitude of different ways the artists work and communicate. Notable talks included "Conversations with Spaces" by Norwegian sound artist HC Gilje and the round-table "Inside the Arctic Circle" with the 2009 Arctic Circle expedition team.