International Worklodge Network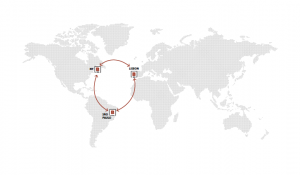 The future of global networked living:
Our long-term vision is to create new types of accommodation for creative professionals by connecting alternative locations and diverse cultures. It is very important that the "club, community and network" aspect of the project drive our growth so that PointB has many networked locations that all uphold the quality of the original. This way, travelers will feel a sense of home/familiarity in each location.
The next phase entails creating a network of Worklodges worldwide, publishing the ongoing Worklodge DIY manual, and releasing it as an open source Wiki reference, to produce cross-disciplinary and cross-cultural exchange in the space between experimentation and research in design-build and art-processes.
We propose the addition of three Worklodges: Another in the United States, one in Portugal and one in Brazil. After the prototype has proven successful, we plan to expand the network into Austrailia, Asia and Middle East. We understand the difficulty of such an ambitious plan, but we believe the rewards would be immeasurable.
Following the success of the PointB Worklodge in New York, the next phase will be to create an international network of worklodges in other cultural capitals such as Lisbon, Sao Palo, Istanbul and Hong Kong. With art world globalizations, artists are moving around with an ever greater fluidity. The number of creative professionals who are living the nomadic lifestyle is on a sharp incline. This fluidity has created a complex network of communication and creative exchange that refuses to be contained by geographical borders.